Historic Shift in House Accomplishes Nothing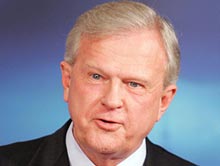 Politico reports that a Demrat Congresscritter you've never heard of — Parker Griffith of Alabama — is turning Repug today:
The switch represents a coup for the House Republican leadership, which had been courting Griffith since he publicly criticized the Democratic leadership in the wake of raucous town halls during the summer.
Yes, Politico, a "coup" that doesn't change the balance of power in the House, that doesn't affect the results from upstate New York, and isn't nearly as momentous as Arlen Specter's flip last spring — a flip that gave Senate Demrats sixty votes once Senator Al was sworn in.
But hey, slow day. We understand.
Add a Comment
Please
log in
to post a comment