Vote Now for the 2009 Stinque Awards!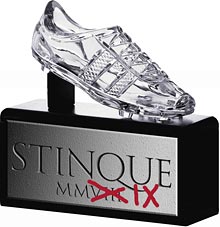 Despite a busy year, the categories for the 2009 Stinque Awards for Achievement in Infamy are fewer than expected. The Nominations Death Panel considered many worthy submissions, but kept in mind our arbitrary rule: You don't get an award for showing up. Only races where multiple nominees are expected were included in this year's list.
To vote for an award, or threaten to undermine the process unless your pissant category is included, simply write a comment. Because these are qualitative awards, ballot-stuffing has no effect. On the other hand, judges can be bought, especially via our Amazon Kickback Link and Stinqueria purchases. It's the American Way.
Winners will be announced next Monday, December 28. Which means we'll be doing a lot of head-cropping next Sunday.
Technical Awards for Nice People
Le Prix Trudeau for Best Un-American Politician
Eminence Grease for Most Evil Organization
Mylar Gasbag for Best Wind Broken by a Pundit
Diamond Dentata for Most Obnoxious Republican Woman
Teflon Teabag for Best Wingnut
Paisley Pro-Am for Best Sex Scandal
Golden Anal Pear for Asshole of the Year
Crystal Douchebag for Lifetime Achievement
Some guidance for your consideration:
1. Some troublemakers, even here, insist on honoring people for good deeds. While we consider this a grave offense against the spirit of the Stinque Awards, our Technical category is where to bury them.
2. The Paisley Pro-Am includes political and non-political sex scandals. Tiger needs some competition.
3. The Crystal Douchebag for Lifetime Achievement need not be bestowed in a given year. We know who you want to give it to, but you'll have to make a good case for it. Remember, last year's winner was Dick Cheney. We have standards to uphold.
Add a Comment
Please
log in
to post a comment