Announcing the 2009 Stinque Awards!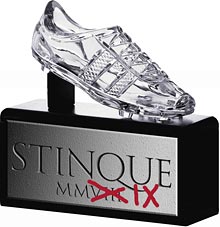 If you had asked us on January 1 whether in this first year of our post-Troubles era we would still have a need to celebrate the cretins, mountebanks, and nincompoops of American culture and politics, we would have told you to shut the fuck up, our hangover is killing us.
But the depths of human nature remain unplumbed, and so it is with great pride and no little trepidation that we announce the Second Annual Stinque Awards for Achievement in Infamy.
What makes ours different from other year-end blog fillers? You do all the work!
The process is fiendishly complicated, as befits an award of such stature and portent. This week we seek suggestions for Categories and potential Nominees, from which we will arbitrarily select a handful for further pursuit. Next Monday voting will commence, with cheating heartily encouraged as always. Finally, on December 28, we will announce the winners in a all-day ceremony that you won't want to miss, because otherwise we'll talk behind your back.
Confused? You should be. But you can review the 2008 Stinque Awards for helpful hints.
Winners receive our handsome Crystal Shoe in honor of Muntader al-Zaidi, who last year inspired the world by Throwing Truth to Power. Because of an ordering snafu during our 2008 event, we have more than a few leftovers, which have been cleverly repurposed for the occasion.
Add a Comment
Please
log in
to post a comment