Progressive Catfight: Health Care Bill Edition

t's ON! As the Senate health care reform bill nears a possible-maybe-if-Joe-Lieberman-isn't-paying-attention chance of passage, a dispute is breaking out in the liberal blogosphere as to whether the bill in question (and the reconciliation bill that would result from the Senate/House conference)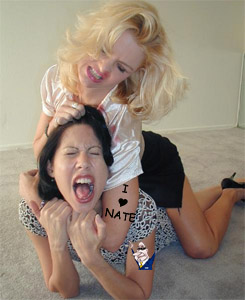 is an awful, shitty, rotten,
low, stinking, kick below the belt with a pair of steel toed boots right smack in the beleaguered crotch of working Americans, that's worth supporting because, Goddamit it's better than nothing; or whether it's far worse even than that and should be put out to pasture next to the stinking corpse of Joe Lieberman's sense of shame.
On the one hand, we've got every progressive's favorite statistician, Nate Silver, crunching the numbers and suggesting that without the Senate bill, Americans will shortly find themselves wallowing in a hell-hole swamp of misery and disease as premiums for a family of 4 shoot up to somewhere north of $19,500.00 by 2016. With the Senate bill, Silver argues:
A family of four earning an income of $54,000 would pay $4,000 in premiums, and could expect to incur another $5,000 in out-of-pocket costs. The $4,000 premium represents a substantial discount, because the government is covering 72 percent of the premium — meaning that the gross cost of the premium is $14,286, some $10,286 of which the government pays.
But whoa, there Nate, counters RJ Eskow on Crooks and Liars:
Silver is absolutely wrong when he says that "we can debate whether $9,000 is 'affordable' for a family of four earning $54,000" – we can? Really? – or when he says the individual mandate penalty is "not very harsh." I'm astonished that anyone grounded in the real world could believe that these numbers (and those for higher middle-class earners) are not "harsh," unaffordable, and even potentially devastating for middle-class people trying to get by in this economy. That's craziness of the flying-rodent-feces variety.
Silver, in an update to his post, notes that most Americans will, in fact, pay ony $4000.00 a year in premiums (which by my calculation works out to $333.33 a month) and maybe $1000.00 in out of pocket expenses. It is only in those years in which a family member becomes seriously ill that said family can expect to incur an actual annual cost of $9000.00.
So who's right? Well, if I may be so bold as to opine: they're both right. Silver is indubitably right that failure to pass the bill will soon see ordinary Americans facing insurmountable health-care costs and massively expand the ranks of the uninsured. However, Eskow and others are right to be bothered about the high costs that the bill imposes on average Americans, and the problematic nature of an individual mandate minus the cost containing bullwark of a public option.
More problematic, IMHO, are the potential political consequences of this bill. I for one fear it could lead to the utter decimation the Democratic Party in the upcoming 2010 elections. In its current form, it seems tailor made for dishonest GOP attacks that cannot be easily defended against. The GOP will surely rail against the individual mandate as a massive, brutal tax on working families. And would you really like to be the one to defend a punitive tax (a penalty) on people who are too financially insecure to afford to buy private health insurance, and which will be used to subsidize the premiums of people who are better off financially than them? And finally, lets face it: Silver's contention that most of these moderate income families will pay only $4000 to $5000 a year in out of pocket expenses unless they become sick is all fine and dandy, but also sounds a lot like the system we've got now: insurance that's affordable… until you actually need it.
When Bush and the GOP bungled the Iraq war, torpedoed the economy, and watched as New Orleans drowned, I was among the many people who felt that the GOP could well have lost the House and Senate for a generation, or so. Now, just 3 years after the 2006 elections, I'm stunned to be wondering how the Democrats can possibly expect to hold on to power in 2010.
Ed: updated for the the tatoos :)
Add a Comment
Please
log in
to post a comment