Mmmm… Sausage!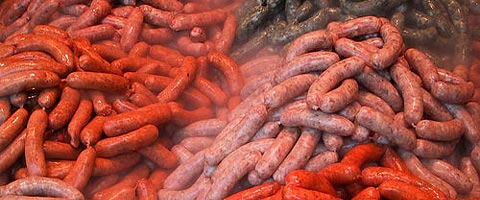 We have only two questions regarding healthcare reform:
1. Is it better than what exists?
2. Does it screw us over?
The second question has never been an absolute deal-breaker for us — just an ongoing note of concern. We can deal with some degree of fuckitude for the good of the Republic. Just be gentle with us.
Pornographic imagery aside, Tuesday's Cavalcade of Capitulation was stunning, with elected officials rushing to embrace defeat with a happy face. Sure, they were saying, we can live without whatever it was we were adamantly demanding the day before. All that stuff we weren't talking about is just as important.
On the other hand, you had ardent progressives unironically grasping for a classic Republican stalling tactic: Start over. Reform had gone so far off the rails, they argued, that nothing remained but to send in the bulldozers and try it again.
But let's get one thing straight: there is no do-over. If reform doesn't happen now, it doesn't happen for another fifteen years. This is as good as it gets. This doesn't mean that any bill is better than none — only that any bill better than the status quo remains worth passing.
Which begs our original questions: Is it better? Does it screw us? We'll have to wait until everyone stops bemoaning what it isn't to find out. Just don't expect us to cheer wildly for the result — when the Democratic leadership starts preening for their victory close-ups, we'll have our cream pies ready.
Add a Comment
Please
log in
to post a comment