Odious to the Core.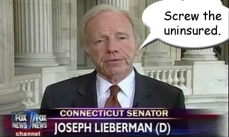 As if anyone really needed a reason to despise Joe Lieberman even more… David Herszenhorn's New York Times blog helps flesh out just how odious Lieberman (I. – Insurance Lobby) really is. By now it has been widely reported that Lieberman's opposition to a Medicare buy-in plan for Americans aged 55 and older stands in sharp contrast to positions he took just a few months ago, and seems to have emerged just as the possibility of such an arrangement began to take fruition. What Herszenhorn newly reveals, are Lieberman's stated reason for the flip flop:
Mr. Lieberman had supported the Medicare buy-in proposal in the past — both as the Democrats' vice presidential nominee in 2000 and in more recent discussions about the health care system. In an interview this year, he reiterated his support for the concept.

But in the interview, Mr. Lieberman said that he grew apprehensive when a formal proposal began to take shape. He said he worried that the program would lead to financial trouble and contribute to the instability of the existing Medicare program.


And he said he was particularly troubled by the overly enthusiastic reaction to the proposal by some liberals, including Representative Anthony Weiner, Democrat of New York, who champions a fully government-run health care system.
So what bothers Lieberman about the buy-in (other than vague, non-specific, unsupported worries it would lead to "financial trouble") is the fact that it was welcomed enthusiastically by liberals? Are you fucking kidding me?
What's worse is that Lieberman clearly sees his job as a scuttler of health care reform, not a facilitator:
Mr. Reid, for instance, had asked Mr. Lieberman to join a group of 10 senators — five centrists and five liberals — tasked with bridging the divide over the public option. Mr. Lieberman, however, refused to attend the talks, and another senator took his place.

In the interview, Mr. Lieberman said he did not attend because he had no intention of compromising on a public plan.
The man adjusts his opposition to policies as they emerge, even going so far as to oppose his own proposals from mere weeks before. He refuses to negotiate in good faith, and continues to hold prominent chairmanships in the Democratic Party?
I've said it before: Democrats need to tell Lieberman to go to Hell. The party will find itself far more effective at negotiating reforms if it simply governs as a party with a 59 seat majority than if party leaders insist on living under the idiotic and misguided fantasy that they control 60 votes. Until that time the Democratic party will continue to be the party of Lieberman, plain and simple.
Add a Comment
Please
log in
to post a comment