Tiger Enters the Clubhouse Twelve Over Par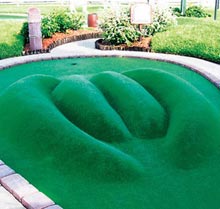 Those Nekkid Cellphone Pix must be just around the corner:
I am deeply aware of the disappointment and hurt that my infidelity has caused to so many people, most of all my wife and children. I want to say again to everyone that I am profoundly sorry and that I ask forgiveness. It may not be possible to repair the damage I've done, but I want to do my best to try…

After much soul searching, I have decided to take an indefinite break from professional golf. I need to focus my attention on being a better husband, father, and person.
We congratulate Tiger for providing the world an entertaining distraction from the depressing news of the day. Golf will never be the same.
Add a Comment
Please
log in
to post a comment