Hamster Scare Grips Nation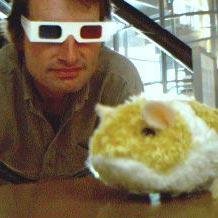 We don't normally buy into conspiracy theories, but a story breaking Monday is making us reconsider our position:
A safety scare involving the holiday season's hottest toy cooled off Monday after federal safety regulators quickly put to rest claims that one model of the best-selling Zhu Zhu Pets contained high levels of antimony…

Last week, consumer website GoodGuide said its testing had shown that Mr. Squiggles, one of the Zhu Zhu robotic hamsters that have been selling out at stores nationwide, contained levels of antimony above what the federal government considers acceptable.
For the record, the Nojo Hamster meets all quality standards of the Consumer Blogging Safety Commission. Reports of the Nojo Hamster containing excessive levels of antagonism are unfounded, especially compared to the Michael Moore Bobblehead, which has been known to explode when handled improperly.
In any event, we take offense to government-mandated antagonism standards, and consider this a brazen attempt by the Obama Administration to stifle dissent among erstwhile supporters. Comparisons by unnamed White House sources of the Nojo Hamster to the notorious Richard Gere Gerbil are particularly sleazy, and Politico should know better than to run the story without asking us for comment.
Also please note that the Nojo Hamster is not called "Mr. Squiggles". That name is reserved by Nojo for purposes that remain off the record.
Add a Comment
Please
log in
to post a comment