Class Warfare in America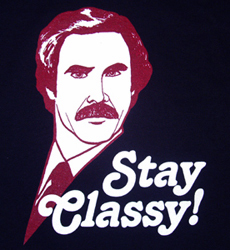 Given recent developments on both the domestic and international front, it is easy to become dispirited, shaking our heads at many of the decisions of the current Administration and wondering whether all our efforts and hard work were really worth the election of a President who, in retrospect and all too often, seems  far removed from the hopeful agent of change we enthusiastically supported. At what point and by whom were we informed that we should  set aside expectations nurtured by an energetic campaigner's steady diet of "hope" and "change"  and instead satisfy ourselves with cold plate of "not as bad as the other guy?"
Leaves a bitter aftertaste, doesn't it?
Yes, I admit to succumbing to such thoughts myself on more than one occasion. However, just for the sake of balance and to maintain a little bit of sanity about us, it probably helps to remind ourselves from time to time just how terribly bad this "other guy" (or gal) really would have been –if only to once again experience the relief that comes from standing at the edge and peering down the frightening precipice we narrowly avoided falling into, the terrible fate we thankfully escaped. And so to that end I'd like to offer for your consideration, dear Stinquer, a pair of quotes; one from the current occupant of the White House, and one from someone who might have become Commander in Chief, had fate dealt our weary and battered nation a different, less palatable, hand.
The first is a quote from president Obama, who at the height of the 2008 presidential campaign spoke eloquently on the need for a principled political discourse, for a debate that is rooted in serious policy discussion and that is circumscribed by considerations of common decency:
Sen. Barack Obama said firmly that families are off-limits in the campaign for president, reacting to news that GOP running mate Sarah Palin's 17-year-old daughter is pregnant.

"Let me be as clear as possible," Obama said. "I think people's families are off-limits, and people's children are especially off-limits. This shouldn't be part of our politics. It has no relevance to Gov. Palin's performance as governor or her potential performance as a vice president."

Obama said reporters should "back off these kinds of stories" and noted that he was born to an 18-year-old mother.

"How a family deals with issues and teenage children, that shouldn't be the topic of our politics, and I hope that anybody who is supporting me understands that's off-limits."
The second quote comes from Sarah Palin, the true dynamic force behind the McCain/Palin campaign, and the heir apparent to the G.O.P. throne, matron saint to contemporary mouth-breathing conservatism. It concerns one of the most inane, tendentious and dangerous accusations that is leveled against the current occupant of 1600 Pennsylvania Avenue: that he is not a natural born citizen, but instead a illegitimate African Moslem.
Voters have every right to ask candidates for information if they so choose. I've pointed out that it was seemingly fair game during the 2008 election for many on the left to badger my doctor and lawyer for proof that Trig is in fact my child. Conspiracy-minded reporters and voters had a right to ask… which they have repeatedly. But at no point – not during the campaign, and not during recent interviews – have I asked the president to produce his birth certificate or suggested that he was not born in the United States.
In the disingenuous way in which it tries to have things both ways, this quote is classic Sarah Palin. She at once affirms the legitimacy of questions about Obama's parentage while at the same time appearing, at least superficially, to distance herself from the questioning itself. But only superficially, mind you. Because while Palin insists that she never "asked the president to produce his birth certificate or suggested that he was not born in the United States" she does not go so far as  to opine that he is, in fact, the legitimate holder of the office of President of the United States of America. There's a rather wide span that separates the phrase "I never said that" from the phrase " I don't believe that." And that span represents a knowing nod and a wink to the conspiratorial, lunatic fringe Palin has so patiently been courting since the 2008 presidential campaign. Just as distasteful, perhaps, is the implication from Palin's first claim: "I've pointed out that it was seemingly fair game during the 2008 election for many on the left to badger my doctor and lawyer for proof that Trig is in fact my child." The suggestion is that Obama condoned such inquiries and, therefore, the Birther movement represents a sort of rightful comeuppance. Yet, as our first quotations plainly demonstrates:  the opposite was very much the case.
No, the above quotes do not lay out deep policy differences. They don't tell us how bad a Palin presidency would be for the environment, the economy, gays and civil rights, or international relations. But they serve to highlight the differences between the current occupant of the White House and the tactless half-wit who thirsts for that position even as she tours the nation selling a ghost-written autobiography chock full of lies, innuendo and erudite philosophical citations culled from the pages of Bartlett's famous quotations.
Americans have always liked to think of themselves as members of a "classless" society. And while this illusion is certainly shown to be a naive one once we take the even most cursory glance at the lopsided distribution of wealth in this land, one admirable aspect of this fantasy we live is that Americans tend to think of "class" as something that is earned, and not something one is born into. Indeed, in America the word "class" more often than not is used to distinguish not between social or economic strata, but to differentiate a kind of well-mannered graciousness from its opposite: the seething vulgarity of envious louts. Barack Obama and Sarah Palin were both born into households of modest means. Neither enjoyed a childhood of economic privilege or high social standing. In the  European sense of the word they could both be said to have been raised "working class" or lower. But in the American sense of the word where "class" is something you've risen to, rather than a title you inherited from your father, Sir Edward Pickleby the third Duke of Hoeckenshire, it's clear that our current president stands head and shoulders above his vile and vulgar counterpart. Barack Obama's got class, people, he exudes it; while the spiteful, duplicitous, witless ex-governor of Alaska has only seeting resentment. She's the sort of classless loser who spits at the outsrtetched hand of the opponent who has beaten her in a sporting event.
Whatever else… be thankful we got him and not her.
Add a Comment
Please
log in
to post a comment