DINOsaur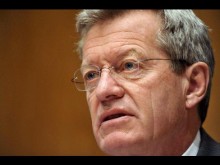 If the Democrats are going to compete with the likes of Vitter, Craig, and Ensign they're going to have to do better than this:
Sen. Max Baucus (D-MT) did not disclose to the Justice Department anything about his personal relationship with a woman he recommended to be a United States Attorney, according to a Department official involved in the selection of federal prosecutors.
Shades of Paul Wolfowitz.
Baucus has acknowledged that he recommended his girlfriend, Melodee Hanes, to be the U.S. attorney for Montana, but it has not been previously known whether he or his staff told Justice Department officials about the relationship at the time of his recommendation. An official involved in the vetting of U.S. attorneys says that Baucus did not—a disclosure that may escalate questions about Baucus' conduct.
I am so sick of this shitbag – if this takes him down, and he's replaced with a Republican, would it make that much of a difference? Sixty votes are practically useless, as we've seen.
Add a Comment
Please
log in
to post a comment