Grifter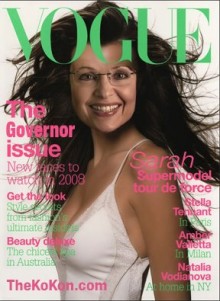 grif‧ter
[

countable

]
American English
informal
–

someone who dishonestly obtains something, especially money.
On her book tour, Sarah Barracuda pretends to be one of the people. But she's really winging across the country on a private jet.




As much of her entourage, including HarperCollins publicist Tina Andreadis, risked a collective case of White Line Fever, covering more than 3,000 road miles during the book tour's first week, Sarah Palin herself seems to have remained above it all, apparently cosseted in the luxury of a Gulfstream II 12-passenger jet rented from Universal Jet Aviation of Boca Raton, Florida, at a cost of more than $4,000 per hour.
But wait – she's supposed to be one of us!
It seems now that Palin hasn't been on the bus, except for short hops between local airports and hotels and book-signing sites. Instead, as first reported by the Alaskan blog Palingates, she's apparently been aboard UJT750, the Gulfstream American twin-jet that she first boarded at Westchester County airport shortly after noon on November 18, bound for Grand Rapids, Michigan, and the first stop on her tour.
She will do anything, anything, to get money and power.  I guarantee she will run for office again – she's an attention whore of the highest order.  We will never be rid of her.
Add a Comment
Please
log in
to post a comment