Accuracy, Accuracy, Accuracy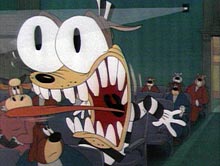 Such read the college newsroom sign posted by our managing editor, Marvelous Marv. Marv was known to go apoplectic over a fact error in a story — probably the only real-life example of Tex Avery Eyes we've seen.
And since our years as a college journalist just preceded Sarah Palin's (and just followed John Wooden's retirement at arch-nemesis UCLA), we particularly enjoyed the latest Going Rogue howler:
perhaps the most embarrassing gaffe so far is her mis-attributed quote to UCLA basketball legend John Wooden.

As the epigram to Chapter Three, "Drill, Baby, Drill," Palin assigns the following remarks to the Hall of Fame hoops coach:

"Our land is everything to us… I will tell you one of the things we remember on our land. We remember our grandfathers paid for it — with their lives."

Only the quote wasn't by John Wooden. It was written by a Native American activist named John Wooden Legs in an essay entitled "Back on the War Ponies," which appeared in a left-wing anthology, We Are the People: Voices from the Other Side of American History, edited by Nathaniel May, Clint Willis, and James W. Loewen.
Marv, wherever you are, pick your eyes off the floor.
Add a Comment
Please
log in
to post a comment