Vox Stinque, Harbinger of Doom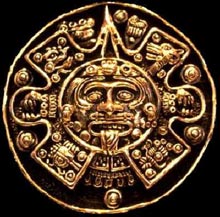 Frank Rich, who unlike us gets paid to blather, puts his salary to use:
Easily the most startling passage in "Going Rogue," running more than two pages, collates extended excerpts from a prayerful letter Palin wrote to mark the birth of Trig, her child with Down syndrome. This missive's understandable goal was to reassert Palin's faith and trust in God. But Palin did not write her letter to God; she wrote the letter from God, assuming His role and voice herself and signing it "Trig's Creator, Your Heavenly Father."
Every week, when FlyingChainSaw doesn't relieve us of the chore, we churn out a silly reader poll for the passing amusement of our devoted audience. So last Sunday, with that book about to be unleashed on an undeserving nation, we asked "What's your favorite part?" And among the answers — currently trending first — was "The moment God tells her, 'You've gotta be fucking kidding me.'"
We had no idea we had pegged the book's most noteworthy passage. But if Roland Emmerich would like to buy the rights to our other apocalyptic predictions for his next disaster-porn blockbuster, he knows where to find us.
Add a Comment
Please
log in
to post a comment