Thigh Me a River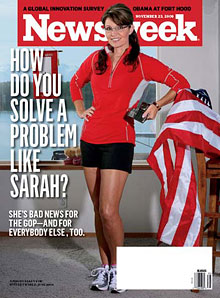 Our guest columnist this morning is celebrated blogger Sarah Palin.
Any kind of perceived whine about that excess criticism… I think, man, that doesn't do us any good, women in politics, women in general, wanting to progress this country—
The Management apologizes for hiring Sean Hannity's intern, who completely inadvertently posted an old column from March 2008, and has been sacked. Below is the appropriate entry.
The choice of photo for the cover of this week's Newsweek is unfortunate. When it comes to Sarah Palin, this "news" magazine has relished focusing on the irrelevant rather than the relevant. The Runner's World magazine one-page profile for which this photo was taken was all about health and fitness — a subject to which I am devoted and which is critically important to this nation. The out-of-context Newsweek approach is sexist and oh-so-expected by now. If anyone can learn anything from it: it shows why you shouldn't judge a book by its cover, gender, or color of skin. The media will do anything to draw attention — even if out of context.
Newsweek [Sarah Palin/Facebook]
Add a Comment
Please
log in
to post a comment