Oxford Word of the Year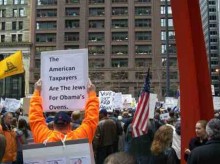 So close:
In a press release touting "unfriend" as the word of the year, the New Oxford American Dictionary may have unwittingly made a more controversial move than the New Oxford American Dictionary pretty much ever does.

No, it wasn't another cutesy tech neologism: they included "teabagger" as one of their Word of the Year finalists.

According to the release, they define "teabagger" as "a person who protests President Obama's tax policies and stimulus package, often through local demonstrations known as 'Tea Party' protests (in allusion to the Boston Tea Party of 1773)."
I think I know why "teabagger" didn't win ….
Add a Comment
Please
log in
to post a comment