He's Still Butterstick II to Us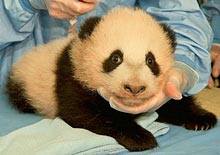 Longtime members of Our Merry Band of Wonkette Deserters will recall the joys of Butterstick Summer, when Ana Marie Cox became unnaturally fixated upon the National Zoo's brand-new adorable bundle of hairless baby Panda flesh.
And since the Stinque Remote Office is located just thirteen blocks north of the Sandy Eggo Zoo, we really should have paid more attention to their brand-new adorable bundle of Pandaplasm, born August 5. Just for tradition's sake.
But we didn't. Nor did we think to prank the zoo's name-the-panda contest, which drew 6,300 nominations.
Which means, now that the bamboo-devouring rugrat's driver's license will read Yun Zi ("son of cloud"), we're shit out of luck to bitch about it. Although we may still use runner-up Xiao Long — "little dragon" — as our porn name.
PandaCam [San Diego Zoo]
Add a Comment
Please
log in
to post a comment