Hairrorism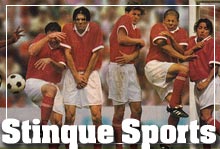 There's something heartwarming in the notion that, forty years after Woodstock, authority figures still get uptight over hair:
Dustin Reader, an eighth-grader at Garfield Middle School, received an in-school suspension Monday because of a haircut he received over the weekend in honor of the Cincinnati Bengals.

His barber, Chris Campbell of the B Street barbershop Razor Sharp, cut Bengal stripes on the sides of Reader's head and a large capital B on the back to resemble the team's helmet, and on Sunday, he colored his head and scalp to match for the game. The colors were washed out for school on Monday, according to his parents, but he barely got off his bicycle at Garfield when he was sent to his principal's office.
This isn't Dustin's first run-in with The Man. He's also flaunted such anti-authoritarian hair carvings as a rose, a spiral, and "LOST" — known symbols for socialism, anarchy, and crappy second seasons. Personally, we think the only solution is school uniforms and shaved heads.
For the administrators, anyway. The kids can do whatever the hell they want.
Add a Comment
Please
log in
to post a comment