Douchebag of the Day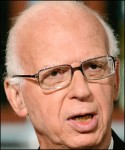 David S. Broder:
The more President Obama examines our options in Afghanistan, the less he likes the choices he sees. But, as the old saying goes, to govern is to choose — and he has stretched the internal debate to the breaking point.

It is evident from the length of this deliberative process and from the flood of leaks that have emerged from Kabul and Washington that the perfect course of action does not exist. Given that reality, the urgent necessity is to make a decision — whether or not it is right.
Of course, I had a comment:
Oh David – how you must yearn for the days of The Commander Guy, when decisions were made in his "gut". Sure, they were always wrong, but we had a Decider! Heaven forbid a president should actually "consult" with advisors or "think" about what's the best way forward.
Our opinion media – monsters.
Add a Comment
Please
log in
to post a comment