Release the Hounds!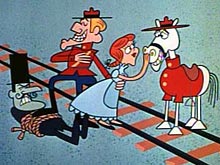 Judge Clay Land unleashes the Mounties U.S. Attorney on Orly Taitz:
Orly Taitz has failed to pay the $20,000.00 sanction ordered by the Court on October 13, 2009. Accordingly, the Clerk is ordered to enter final judgment in favor of the United States of America and against Orly Taitz in the principal amount of $20,000.00. The United States Attorney is authorized and directed to collect the judgment as provided by law.

IT IS SO ORDERED, this 13th day of November, 2009.
Orly said she had appealed, but it's unclear whether her plea got misfiled in the recycling bin.
Add a Comment
Please
log in
to post a comment