You Can't Please Everyone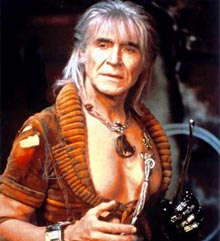 Lindsey Graham, perennial also-ran in the South Carolina Douchebag Standings, can't catch a break from the local crowd:
Republicans in Charleston County censured their own U.S. Sen. Lindsey Graham, saying he puts bipartisanship before the party on issues like climate change.

"U.S. Sen. Lindsey Graham in the name of bipartisanship continues to weaken the Republican brand and tarnish the ideals of freedom, rule of law, and fiscal conservatism," according to a resolution passed Monday…

Last week, Graham joined Democratic U.S. Sen. John Kerry of Massachusetts and independent U.S. Sen. Joe Lieberman of Connecticut to say they would work with the White House to reach a climate bill that could pass the chamber.
There's an old line that you had to be to the right of Genghis Khan to please some Republicans. But with Khan now celebrated as a Chinese hero, we may have to update the comparison to the Khan who opposed one-universe government.
Add a Comment
Please
log in
to post a comment