Three Yards And A Cloud Of Meds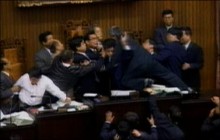 This open thread begins with the observation that… well… God almighty, there's nothing like a House of Representatives debate sometimes.  Like, say, whenever Barney Frank gets rolling on a procedural point.  Or whenever Michelle Bachmann goes into her private reserve of insane. 
Today?  Well, even the debate on setting the rules for debate descended into a total mess.  John Dingell, Father of the House / Crochety Old Man Who Is Getting Tired Of This Shit, presided over a half-hour of (a) scores of Democratic women making unanimous consent requests with a wee bit of debate thrown in, and (b) Republican members shouting "I OBJECT!" repeatedly.  Dingell tried his best, as a parliamentarian, to tell the Republicans to shut the fuck up — to no avail.  And after that, the Republicans got up and made unanimous consent requests with the same wee bit of debate rolled in…. and the Democrats sat there, politely.  First blood, then, to the Dems, for not acting like total douchebags.
And that, friends, was how this day began.  Christ.
We are in for a long, and hilarious, day.  Open thread, suckers — with major, earthshattering levels of stupid noted in the post proper, post-jump, for the sake of teaching children that running for Congress just isn't worth it.
ADD: I am made to understand that the Sport open-thread will not be seen today, so that we may bring you this Stinque Special Presentation.  It will return at its regularly scheduled time next week.  Kisses.
ADD #2 — A personal note: I got a statement from my insurer today, w/r/t my annual checkup.  Total bill: $834.  Total amount I have to pay: $10 — the copay. 
National minimum wage?  $1,160 per month, or $2,320 for a two-earner family.  $834 would positively break people if they didn't have coverage, of some sort.  Nobody in the GOP seems to get that.  Seriously.   
1201 (ET): Just an editor's note.  The unanimous consent requests were muted by me, so I have no idea how many times the Republicans' UC requests included the words "socialist," "fascist," or "yummy cupcakes."  I'm just not a great stenographer when it comes to things that makes my head hurt.  Sorry.
1227: Off the floor — Nancy Pelosi talking to the press now.  She's laying down the guarantee of a win today.  That's bulletin-board material, Nancy.  Poor move.  Steny follows, says nice things about Black Eagle, and lays down a similar guarantee.  
1230: A heads-up for later: BARRY, ROSE GARDEN, 1430 TODAY.  So there.
1251: Interesting moment: Bart Stupak (D-Mich.) speaking in favor of the bill.  He's got an anti-abortion amendment in order for debate today.  His vote is crucial, and it sounds like he's on board.  Maybe.
1300: Bloggie has video of the Battle of the Unanimous Consent Requests.
1322: Hopey jumps the schedule, starts talking.  Pimps the AARP et al.  Says "this is our moment."  Leaves.
1400: Game on in the House.  4 hours of debate — with that to end about 4 and a half hours from now — on the bill itself.  Steny Hoyer leads off, gives a crotchety-old-man turned tender-grandpa speech.
1435: John Boehner with an early appearance, speaking on Stupak.  No guarantee from Henry Waxman (in colloquy) that Stupak, if approved, will stick around past the conference committee.  Boehner then calls Stupak cover for members to vote for passage.  So there's that.  Intriguing.
1505: End of First Period: No score.
Shots on Goal — DEM 7:6 GOP…. Penalty Minutes DEM 0:2 GOP…. Power Play: DEM 0/1 : 0/0 GOP….
1835: After 4.5 hours of pure drivel, Nancy Pelosi takes the floor for a valedictory speech, and repeats what has been said for maybe 90% of what went before.
1840: The four hours of general debate are up.  It took 'em 5 hours and 40 minutes to do that.  Now, DRAMA!!  Bart Stupak?  You're up!
1915: Stupak Amendment done, GOP Substitute up now for the next hour.
2155: The hundred-minute long hour on the GOP Substitute is up.  Now they actually start voting.  First up?  As SanFranLefty has coined it: the Ladyparts Amendment.
2120: Stupak/Ladyparts Amendment WIN, 240:194.  Stupak picks up 64 Dems.  John Shadegg presses the Obama Yellow Button.  GOP Substitute vote up now.
2129: Boehner talked for twenty minutes about the bill.  He forgot Page 1985, Section 5217 — Committee to Research How Badly the GOP Substitute Will Lose By.  MASSIVE FAIL — 258:176… with one GOPer even voting with the good guys.  Guess he's out of the club now.  (Unless it's Ron Paul, which might make some sense, on some twisted level.)  Pointless motion to recommit is coming.
2143: The motion to recommit basically gave the GOP another shot on hammering trial lawyers.  Vote is rolling now.
2200: And, motion to recommit FAIL, 247:187.  Thirteen Dems in favor, three GOPers opposed.  Final vote — FINALLY — now running.
2215: WE HAVE A WIENER! 220:215 WIN for the bill.  And with that: GOOD FREAKING NIGHT.  (God, this has been long.)
Add a Comment
Please
log in
to post a comment