Nice Work, Dick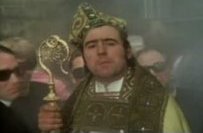 Ladies and gentlemen, the Most Rev. Richard J. Malone, Bishop of Portland, Me., bringing the smackdown.
REFERENDUM ALERT TO FAITHFUL CATHOLICS

[subtle, no?  –Ed.]

A group of self-described Catholics who have chosen to dissent publicly from established Catholic doctrine on the nature of marriage as the union of one man and one woman recently published a paid political ad entitled "Statement of Conscience by Maine Catholics Regarding Marriage Equality."

The evidence for their dissent runs through the statement and is crystallized in the following sentence: "…we find disturbing any suggestion that formal Church teaching obligates all Catholics to oppose marriage equality."

In contrast, please let your conscience be formed by these clear and authoritative words of Pope Benedict XVI (Joseph Cardinal Ratzinger): "In those situations where homosexual unions … have been given the legal status and rights belonging to marriage, clear and emphatic opposition is a duty." (Congregation of the Doctrine of the Faith, July 2003)

A Catholic whose conscience has been properly formed by Scripture and the teachings of the Catholic Church cannot support same sex marriage. Please vote YES on question 1.
Is the correct answer —
(A) "Please send your corporation's Form 1120-X, together with your long-overdue tax payment, to Internal Revenue Service, Ogden UT 84201-0012."
(B) "As for forming your conscience about that sexual abuse stuff, and rumors about cover-ups, that you keep hearing about in the media, we ask you to keep an open mind.  We will fully address this issue with you soon.  Eventually.  Promise."
Add a Comment
Please
log in
to post a comment