We Stagger the Line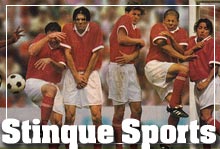 Today's big college matchup appears to be the fourth-ranked USC Spoiled Children playing in Eugene against the tenth-ranked Oregon Disney-Authorized Mascots, so let's get a preview:
On the opposite side of the ball, I see USC attempting to push around Oregon's undersized defensive line. The Duck linemen have done an excellent job this year, but have not faced an O-line of USC's caliber. I expect USC to attempt to pound the ball, grind out some clock, and take a few shots downfield on Oregon's young secondary. Oregon's speed is great on the line and at the linebackers, so I don't think USC will be very successful on the edges. But, if USC can run the ball and force Oregon to bring safety help to stop the run, Oregon could be in for a long day, as the young corners will be all alone.
We're sure that means something, but talk like that makes as little sense to us now as it did when we were in the Oregon marching band. Which is why we always hid a convenient flask inside our comfy uniform.
Add a Comment
Please
log in
to post a comment