Douchebag of the Day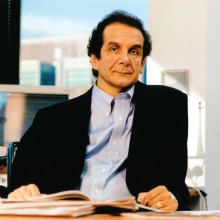 This wasn't easy, what with Lieberman, Robertson, and Brooks in the running, but we have a winner:
It's as if Obama's presidency hasn't really started. He's still taking inventory of the Bush years. Just this Monday, he referred to "long years of drift" in Afghanistan in order to, I suppose, explain away his own, well, yearlong drift on Afghanistan.
This compulsion to attack his predecessor is as stale as it is unseemly. Obama was elected a year ago. He became commander in chief two months later. He then solemnly announced his own "comprehensive new strategy" for Afghanistan seven months ago. And it was not an off-the-cuff decision. "My administration has heard from our military commanders, as well as our diplomats," the president assured us. "We've consulted with the Afghan and Pakistani governments, with our partners and our NATO allies, and with other donors and international organizations" and "with members of Congress."
Unseemly?  What is unseemly is to destroy two (arguably three) countries.  What is unseemly is to fail to regulate financial markets to such an extent that the world financial system is almost destroyed.  It is unseemly to torture. It is unseemly to wiretap without a warrant. It is unseemly to gut the Justice Department and fill agencies with fundamentalist sociopaths.
And check out this bit of fancy footwork:
In other words, Obama is facing the same decision on Afghanistan that Bush faced in late 2006 in deciding to surge in Iraq.

In both places, the deterioration of the military situation was not the result of "drift," but of considered policies that seemed reasonable, cautious and culturally sensitive at the time but that ultimately turned out to be wrong.
Sorry Charlie – it is well documented that Bush/Cheney and their PNAC buddies (including you) had no plans for occupying Iraq.  Fuck you.
Add a Comment
Please
log in
to post a comment