Orly's Cheatin' Heart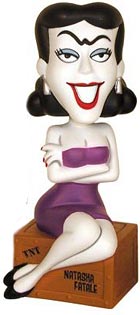 It's not news when yet another Orly Taitz birther lawsuit is dismissed. But in shitcanning the latest entertaining travesty, U.S. District Court Judge David O. Carter of California notes some curious behavior on her part:
Taitz encouraged her supporters to contact this Court, both via letters and phone calls. It was improper and unethical for her as an attorney to encourage her supporters to attempt to influence this Court's decision.
Before our California barristers rush to update their ethics complaints, however, stand by for the whopper:
Additionally, the Court has received several sworn affidavits that Taitz asked potential witnesses that she planned to call before this Court to perjure themselves. This Court is deeply concerned that Taitz may have suborned perjury through witnesses she intended to bring before this Court.
Can we get a whoa?
Barnett v. Obama [PDF, via LAT]
Boris & Natasha bobbleheads [Elmstreet Online]
Add a Comment
Please
log in
to post a comment