Douchebag of the Day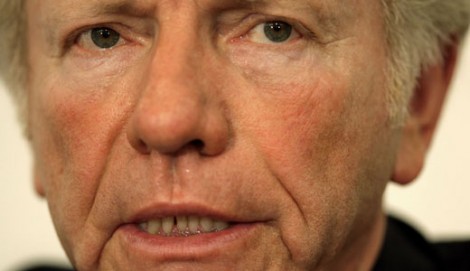 "I told Senator Reid that I'm strongly inclined — I haven't totally decided, but I'm strongly inclined — to vote to proceed to the health care debate, even though I don't support the bill that he's bringing together because it's important that we start the debate on health care reform because I want to vote for health care reform this year. But I also told him that if the bill remains what it is now, I will not be able to support a cloture motion before final passage. Therefore I will try to stop the passage of the bill."
Lieberman is a whore who will do anything to stay in office.  Senator for Israel?  No problem.  Shill for big business?  Of course!
Ned Lamont needs to run again, and win.  Joe Lieberman must be driven from polite society.
Nojo adds…

Insurance company stock prices, Monday morning through this afternoon. The dip times with Harry Reid's announcement that he's supporting an opt-out public option; the spike corresponds with Joe Lieberman's response today that he'll join the Republicans and filibuster the bill.
Add a Comment
Please
log in
to post a comment