Desegregation Was a Nazi Plot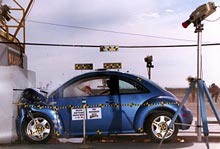 Antonin Scalia follows judicial activism to its logical conclusion:
Using his "originalist" philosophy, Scalia said he likely would have dissented from the historic 1954 Brown v. Board of Education decision that declared school segregation illegal and struck down the system of "separate but equal" public schools. He said that decision, which overturned earlier precedent, was designed to provide an approach the majority liked better.
 
"I will stipulate that it will," Scalia said. But he said that doesn't make it right. "Kings can do some stuff, some good stuff, that a democratic society could never do," he continued.
 
"Hitler developed a wonderful automobile," Scalia said. "What does that prove?"
Stephen Breyer, sparing us the trouble of a comeback, notes that while flogging may have been legal in the 18th century, our standards of "cruel and unusual punishment" have drifted as well.
Update: Scalia didn't say it…
At 23:45 Justice Scalia is clearly misquoted. He says that he stands with Justice Harlan, who dissented in Plessy v. Ferguson. He argues that the original meaning of the Fourteenth Amendment prohibits racial discrimination.
Oh, well. Can we use the Limbaugh Defense and claim it's something Scalia would have said?
Add a Comment
Please
log in
to post a comment