What's the Matter with Norway?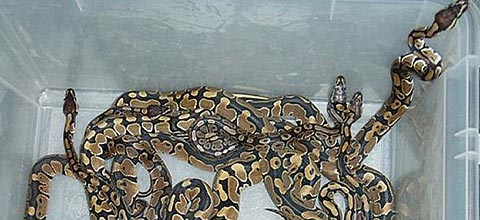 First they award a Peace Prize to some dude who isn't George W. Bush. Then when we're not looking, they steal the Monopoly championship from us. And now, this:
Norwegian authorities have arrested a 22-year-old man for smuggling pythons by taping them to his body.

The Norwegian man, who was arrested in Oslo yesterday, smuggled the reptiles in underneath his clothes.

Customs officials became suspicious when the man, who arrived on a passenger ferry from Denmark, was stopped for a spot check.

When they found a tarantula in his bag, they decided to search further.
And that's when they discovered the 14 baby pythons and 10 albino gecko lizards strapped to his person.
Which brings us to the best photo caption we've seen all year: "Real-life 'trousersnake'."
Add a Comment
Please
log in
to post a comment