The GOP bets the farm… and loses.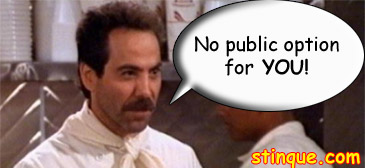 The plan would be a diabolical one had it been planned this way all along: destroy the GOP by allowing it to destroy itself in a fit of self-destructive, ideological pique. With health care costs in these United States spiraling out of control, something clearly has to be done to protect average Americans who are coming face to face with the sad reality that, in America, losing your job means losing your health insurance, and that, in turn, often means losing everything you've work so hard your entire life to build.
The most rational solution to the crisis, would be to implement a European or Canadian style single payer system. But failing that, a regulatory scheme boasting an individual mandate and  a strong public option is a worthy second choice. There are indeed, things the government can do better than private industry, and the rest of the industrialized world has clearly demonstrated that health insurance is one of them. Which is probably why the GOP and its legion of Zombie teabaggers  is so adamantly opposed to health care reform along these lines. Their entire ideology depends on promoting the fiction that the government can do no right, whereas the heroic John Galts of swashbuckling laissez-faire capitalism, by contrast, can do no wrong.
So enter Harry Reid, the soft-spoken, rather dull, Democratic Senate Majority leader who has just announced that a Health Care reform bill including a public option will come to the floor before too long. But there's a twist… ah yes, and this is the diabolical part: to help assuage the uncontrollable ire of an insanely ideological GOP, health care reform will include a GOP colored cyanide capsule in the form of an opt-out clause, allowing any state that so decrees, to forego the manifold benefits of a public insurance plan.
Like moths drawn to the flame of free-market fundamentalism, the GOP will surely succumb to the temptation of opting out. And yet, how long will it take before the good citizens of the Red America realize just how raw a deal they've been dealt by their elected representatives? When real health insurance can be had at an affordable price north of the Mason Dixon, but not down South? When medical bankruptcies all but disappear in Massachusetts but continue to flourish in Mississippi?  When entrepreneurship again flourishes in New Hampshire but is completely snuffed out in North Carolina?
Folks, if the Democrats manage to pull this off, we may be witnessing the events that led to the GOP losing not just the Northeast, West and Midwest… but the South and indeed, all of America.
Pass the popcorn.
Add a Comment
Please
log in
to post a comment