Andy Richter Rules the Buzzer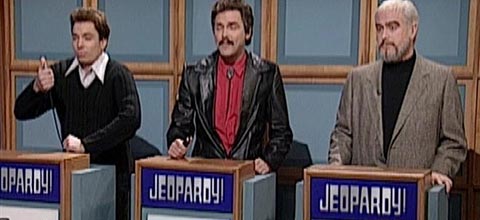 Last time we watched Jeopardy with any frequency, Don Pardo was still the announcer. But for the record, CNN sucks at it:
Wolf was blitzed last month, coming in last with minus-$4,600, behind comic Andy Richter, a past winner who racked up $68,000 for charity…

[Michael] McKean, a previous winner, ended with $24,800 [this month], followed by Abdul Jabbar with $8,800 and [Soledad] O'Brien with $6,200.
"They are reporters, not trivia experts," explains a CNN source. "And the buzzer is complicated."
More complicated than holographic correspondents, apparently.
Add a Comment
Please
log in
to post a comment