Blade of Glory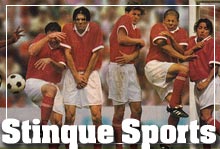 Vince Lombardi was a famously butch football coach, although our vague memory of him denying players sideline heaters during the Ice Bowl seems to be faulty. Still, Lombardi was a pussy compared to the assistant coach at Lakeland, Florida's Kathleen High:
[Christopher Michael] Campbell of Lakeland pointed the knife in a threatening manner several times at one of the players, 16-year-old Otis Buford, "poking him and tapping him on the chest and on the helmet with it while also verbally threatening him," deputies said in a news release…

Deputies said Campbell admitted to [athletic director Gary] Lineberger that he brought the knife to practice and that he told players, "Don't try me today."
Coming from a university whose mascot is a cartoon waterfowl, we can appreciate the challenges faced by coaches at Kathleen High. But if the team is "very close" to the coach, as the A.D. says, one question comes to mind: Who finked?
Add a Comment
Please
log in
to post a comment