The Judean Teabaggers Front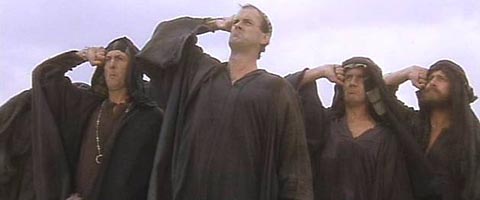 When Rachel Maddow had Americans for Prosperity's Tim Phillips over for a barbecue the other night, one of the skewering points was whether a corporate-backed organization could be called "grassroots." Phillips put up a spirited fight, despite Rachel saying — to his face, in the studio — that someone who had waged the smear campaign against Max Cleland was "a parasite who gets fat on Americans' fears."
Turns out sick puppies aren't the only ones questioning the provenance of Tea Parties and similar political roadshows. In a development we missed a couple weeks back, the teabaggers have the same complaint:
An argument has broken out, perhaps inevitably, between Tea Party activists and one of the groups that has laid claim to the Tea Party mantle. The self-described grassroots activists in Tea Party Patriots and the American Liberty Alliance see the Tea Party Express as a sham organization, using the political heft of the movement to push a bland, partisan Republican agenda. Privately and publicly, they accuse the Tea Party Express of being an "astroturf" outfit, a scheme for Republican strategists and candidates to take advantage of a movement that was chugging along fine without them.
So if you're following this, the Tea Party Express — apparently now joined by Doctor Voodoo — is full of evil political shills, while the Tea Party Patriots are backed by the saintly lobbyists at FreedomWorks, led by Dick Armey.
(And lest we forget, the whole Tea Party meme was started by a financial reporter at — no, not Fox — Obama lapdog NBC, who was complaining about massive government bailouts for Wall Street robber barons "loser" homeowners.)
Meanwhile, the Tea Party Express embarks upon its new tour this Sunday — opening in classy Sandy Eggo, also known as Stinque World Domination Headquarters. We're debating whether to attend the event as yet another splinter group: the Tea Party Cannibal Anarchists.
In Tea Party Civil War, McKalip Appears To Ditch Former Comrades In Favor Of GOP Consultants [TPM]
Add a Comment
Please
log in
to post a comment