Captain Underpants Hedges His Bet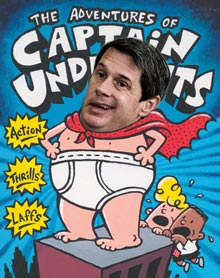 DiaperMan David Vitter, whom 47% of Louisiana Republicans would prefer to continue his adventures (we particularly liked The Perilous Plot of Political Poopypants), is not taking his renomination for granted among his state's pigfuckers. Where other Louisiana politicos were quick to condemn the Non-Marryin' Judge, Vitter took his time before finding just the right words:
Sen. Vitter thinks that all judges should follow the law as written and not make it up as they go along.
Vitter's standards are clear. Criticizing a local judge who won't marry an interracial couple is one thing. Calling for the resignation of a black senator from Illinois is quite another.
Add a Comment
Please
log in
to post a comment