Some Call It Treason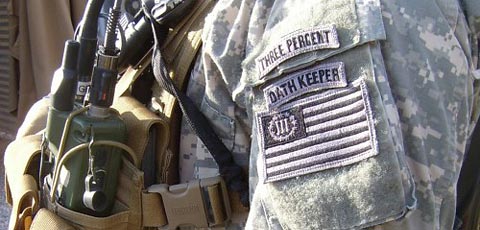 Move over, Birthers. Step aside, Deathers. Back up, Tenthers. We need to make room for — Oathers:
Launched in March by Las Vegan Stewart Rhodes, Oath Keepers bills itself as a nonpartisan group of current and retired law enforcement and military personnel who vow to fulfill their oaths to the Constitution.

More specifically, the group's members, which number in the thousands, pledge to disobey orders they deem unlawful, including directives to disarm the American people and to blockade American cities. By refusing the latter order, the Oath Keepers hope to prevent cities from becoming "giant concentration camps," a scenario the 44-year-old Rhodes says he can envision happening in the coming years.
We can imagine a different scenario, one involving an armed paranoid militia playing out Seven Days in May instead of Red Dawn. Although we prefer our dystopian nightmares to end in pie fights.
Photo: Active Duty Troops In Iraq Are Wearing Oath Keeper Tabs [Oath Keepers]
Related: Coup Are You? [Stinque]
Add a Comment
Please
log in
to post a comment