Coup Are You?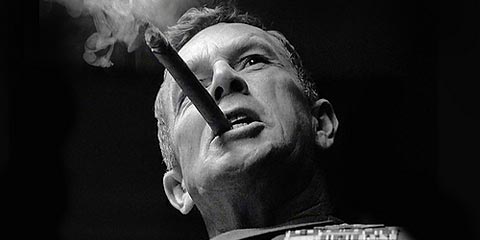 Newsmax, which we think is a kinder, gentler version of WorldNetDaily — in other words, less fun — nudged the teabagging storyline a tad further today, and then quickly nudged it back. Columnist John L. Perry:
There is a remote, although gaining, possibility America's military will intervene as a last resort to resolve the "Obama problem." Don't dismiss it as unrealistic…

Imagine a bloodless coup to restore and defend the Constitution through an interim administration that would do the serious business of governing and defending the nation. Skilled, military-trained, nation-builders would replace accountability-challenged, radical-left commissars. Having bonded with his twin teleprompters, the president would be detailed for ceremonial speech-making.

Military intervention is what Obama's exponentially accelerating agenda for "fundamental change" toward a Marxist state is inviting upon America. A coup is not an ideal option, but Obama's radical ideal is not acceptable or reversible.
Chickenhawks that they are, Newsmax yanked the column faster than you can say "precious bodily fluids." We're undecided whether Mr. Perry should enjoy some of that wonderful health care at Gitmo, or just be stuffed into a FEMA camp with the rest of us.
Add a Comment
Please
log in
to post a comment