Driving, Too. And What's the Deal with Airline Food?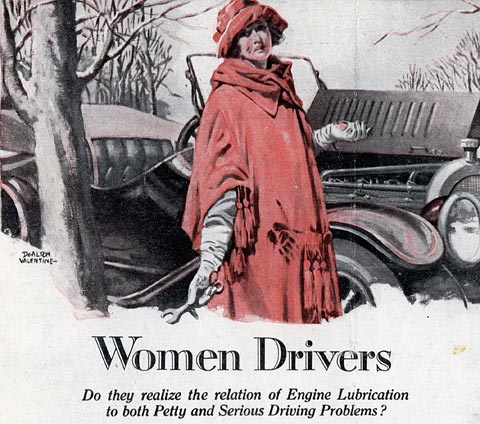 John Derbyshire, one of the boohbahs poohbahs at National Review, has a modest proposal:
COLMES: We'd be a better country if women didn't vote?

DERBYSHIRE: Probably. Don't you think so?
Makes sense. We "got along like that for 130 years", Derb says. We also got along with slavery for almost 90 years, although Derb insists he doesn't want to peel away that many amendments. But given his logic and the overwhelming Indentured Servant vote for Obama, perhaps he should reconsider:
"What is the case against female suffrage?" Colmes asked. "The conservative case against it is that women lean hard to the left," Derbyshire responded nonsensically. "They want someone to nurture, they want someone to help raise their kids, and if men aren't inclined to do it — and in the present days, they're not much — then they'd like the state to do it for them."
Women: Can't live with them, can't live without them fucking up our patriarchy.
Image: Mobil Ad, Scientific American, 1921 [via Modern Mechanix]
Add a Comment
Please
log in
to post a comment