Michael Steele Chews His Cud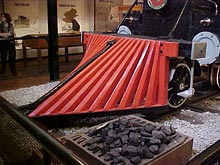 We did our best to ignore yesterday's amusement over the new GOP website, even though it included such blog-baiting features as Michael Steele doing a Happy Dance on the homepage, and a very special Steele column briefly entitled "What Up?"
Well, dawg, you have our attention now:
"I'm not trying to be an obstructionist here. To the contrary, I'm saying, Can we all get in the room and have a Rodney King moment?"
Near as we can tell, Steele views himself as the Los Angeles cops beating a defenseless man to a pulp. Which, given how Republicans treated Town Halls, seems apt.
But even more apt is another comparison, where Steele says that the Healthcare Reform Train has "left the station":
"I'm the cow on the tracks. You're gonna have to stop that train to get this cow off the track to move forward."
You'll have to forgive our spotty knowledge of locomotive history, but we think engineers figured that one out a long time ago.
Add a Comment
Please
log in
to post a comment