America's Pets Better Off Than Americans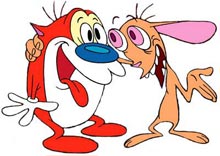 It ain't the Public Option — hell, it ain't even Rapture Insurance — but Michigan Republican Thaddeus McCotter would like to make sure American pets get the quality healthcare denied their owners.
The "Humanity And Pets Partnered through the Years" bill — HAPPY! — spreads the joy with a $3,500 tax break for pet-related expenses.
It's "as much a health care bill as any," says Nancy Perry of the Humane Society. "It's a human health issue to ensure that pets are provided with better care because of the role they play in our families."
We're not strangers to blowing the rent on Iams, so we appreciate the sentiment. We'd appreciate it even more if McCotter wasn't opposed to healthcare reform.
Add a Comment
Please
log in
to post a comment