Oy! Such a Shondah!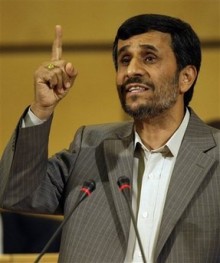 I only regret that he didn't have to suffer through a Bar Mitzvah like the rest of us:
In a stunning report on Saturday, a British newspaper claimed to have uncovered proof that Iranian President Mahmoud Ahmadinejad — notorious among the international community for denying the holocaust — was actually born a Jew.

According to The Telegraph, a high resolution photograph of Ahmadinejad holding up his Iranian identity card, taken just before the 2008 election, reveals that his family changed its name shortly after he was born, renouncing their Jewish faith and adopting Islam.

"A close-up of the document reveals he was previously known as Sabourjian – a Jewish name meaning cloth weaver," the UK paper reported.
As you know, if Mom is a Jew when you're born, it's a membership card you can't throw away.
Add a Comment
Please
log in
to post a comment