Douchebag of the Day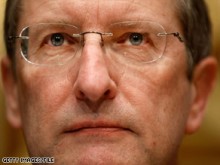 Kent Conrad:
Sen. Kent Conrad (D-N.D.), the Senate Budget Committee chairman and a member of the unsuccessful Gang of Six effort, raised a few eyebrows this week with a message for his "progressive friends."

Conrad, a consistent opponent of the public option, wanted liberals to know "government-run programs" aren't necessary to lower costs and expand access. He explained that he'd finished reading T.R. Reid's "The Healing of America" over the weekend, and learned Germany, Japan, Switzerland, France, and Belgium are doing just fine. "[A]ll of them contain costs, have universal coverage, have very high quality care and yet are not government-run systems," Conrad said.
Wrong.
It was an odd thing to say, and reflects some important confusion about these international systems. As Ezra Klein explained, "In France, for instance, the government provides all basic insurance coverage directly. In Germany, insurers aren't permitted to make a profit. In Japan, health insurance is publicly provided, and private insurance is available only to ease co-payments or cover services that the government leaves out."
I am sick of these fucking Senate douchebag DINOs. North Dakota – land of complete fucking idiots.
Add a Comment
Please
log in
to post a comment