Influence Products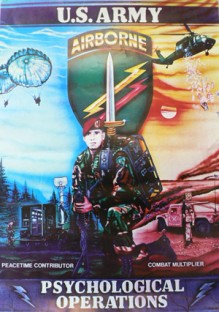 Bridges collapse, roads crumble, levees are breached, but why spend money fixing that shit?
The secretive US Special Operations Command (SOCOM) has awarded arms globocorp General Dynamics a $10m contract to set up a network of psychological-warfare "influence websites" supporting the Global War On Terror. France and Britain are specifically included as "targeted regions".
According to the 14th Airborne PSYOPS Group (and just why are they airborne?)
PSYOP is the dissemination of truthful information to foreign audiences in support of US policy… these activities are not forms of force, but are force multipliers that use nonviolent means in often violent environments… they rely on logic, fear, desire or other mental factors… The ultimate objective of US military psychological operations is to convince enemy, neutral, and friendly nations and forces to take action favorable to the United States…

Their purpose can range from gaining support for US operations to preparing the battlefield for combat.
I'm hoping the battlefield isn't in Britain or France.
From the contract:
Special Operations Command requires the capability to posture for rapid, on-order global dissemination of web-based influence products and tools in support of strategic and long-term U.S. Government goals…

[Contractors will] develop, design, construct, operate, and maintain a series of synchronized influence websites supporting [Global War On Terror] requirements … Government estimates a minimum of two and no more than twelve websites.
Your tax dollars at work, suckers.
So who are the "targeted readers" who are to be steered into supporting US policy, in particular the War On Terror?

A hint is given by the list of required foreign target languages, which includes obvious ones like Arabic, Urdu, Farsi, Russian, Malay etc – but also French, and "English (British dialect and spelling)".
Is this shit really necessary?
Add a Comment
Please
log in
to post a comment