Not The Best Start, Is It?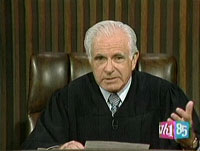 Orly, to TPM — who, apparently, is taking her calls so we don't have to:
This threat of sanctions gives me an opportunity to demand rule 11 discovery and get all of Obama' records through the back door.
(Shitty grammar in original.)  All this in the context of her client dumping her like a cold fish and going off to Iraq anyway, and Orly claiming that the client's letter to the Judge was (yes!) forged, and blah blah blah.
This is what interested me, though: Rule 11 discovery?  Good Lord.  I mean: forget the fact that Rule 11 has no provision for discovery.  None.  This woman is thinking about asking the Judge to allow her to get evidence in order to show that her filing wasn't totally full of shit?  You're kinda sorta obligated to do that before you file something.
All of this is further proof, of course, that one would be better off getting a law degree from a Cracker Jack box than Taft Law School.  But we knew this.
Oh, one more last hit from Orly [sic, natch]:
The most important question is still on the table: why would the judge levy $10,000 in sanctions instead of instructing Obama to produce a real Hospital birth certificate with a name of the hospital name of the doctor and signatures, so we can locate this birthing file?
Why?  Because you are an idiot.  That's why.
Add a Comment
Please
log in
to post a comment