Drink Amongst Yourselves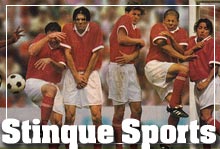 Last time we paid attention, John Madden was still a coach, and the home game consisted of a vibrating metal sheet with plastic players that scattered all over the place. Oh, and our local Disney-licensed college team was such a frequent denizen of the Bottom Ten — the classic Steve Harvey version, not the cable upstart — the local newspaper dropped the column.
So you'll forgive our cluelessness. But we do know from drinking, so today inaugurates our weekend Stinque Tailgates. Since you're going to talk trash anyway, we figured we'd provide a dumpster.
Today's tip from Blogenfreude: "Jets in Houston — new QB, new season, so far a forty-year journey to nowhere. I feel like a Cubs fan."
Add a Comment
Please
log in
to post a comment