Douchebag of the Day (part deux)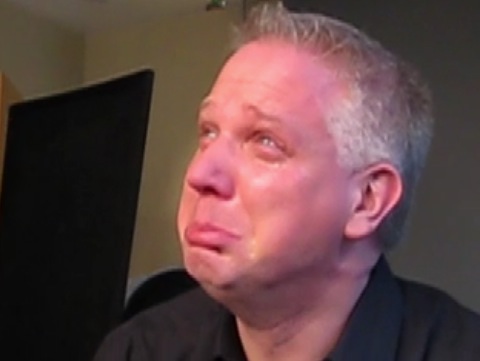 Second one, I know, but he deserves it.
When someone registers a domain like glennbeckrapedandmurderedayounggirlin1990.com, they probably expect to hear from Glenn Beck's lawyers. In this case, it took two days. The site's anonymous operator tells Ars that the whole thing is satire—but that may not be enough to avoid charges of defamation.
A bit thin-skinned, you'll agree.
I spoke to the anonymous owner of the site, who tells Ars that launching it "just felt right"—it flipped the "birther" non-falsifiable conspiracy theories about Obama's birth and citizenship around and applied the same tactics to one of the biggest talking heads (no pun intended?) on cable news. It's just "using Beck's tactics against him" and is a small way of "directing all this frustration" with Beck and others into action.

The site went up on September 1 and had a huge spike of initial interest—it served more than 120,000 page loads in the first 24 hours. By September 3, lawyers for Beck's media company, Mercury Radio Arts, had contacted the domain registrar demanding that the "highly defamatory domain name" glennbeckrapedandmurderedayounggirlin1990.com be deleted, that the WhoisGuard privacy protection service be revoked, and that the owner's contact information be turned over to the lawyers.
Of course people are interested – Glenn Beck needs to answer these charges. And he needs to tell us when he stopped beating his wife.
Beck's lawyers also filed a case with the World Intellectual Property Organization (WIPO) in Switzerland, the group which handles the worldwide domain dispute resolution process, on the grounds that the new website was improperly using Glenn Beck's trademarked name.

(Side note: Beck's name is in the process of being trademarked in the US. While most of the "goods and services" associated with the name are obvious ones like DVDs and books containing Beck's special brand of commentary, the mark is also reserved for use on "cups, ice buckets, mugs, non-metal piggy banks, ceramic and porcelain holiday ornaments." The thought of such an ornament hanging on a Christmas tree…)
Good luck Glenn – you're a public figure.  Shut up, and concentrate on whipping up your rabid viewers. You got lie-brals to git kiyulled!
Can a Domain Name be Defamation? [ars technica]
Add a Comment
Please
log in
to post a comment