Douchebag of the Day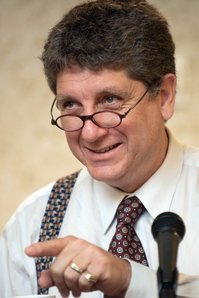 Randall Terry:
The Moran town hall was the last stop on a 10-city tour for Randall Terry, the anti-abortion activist known for his extreme tactics.

Terry's colleagues put on a skit with a man in an Obama mask pretending to whip a bloodied woman, who kept saying, "Massa, don't hit me no more. I got the money to kill the babies."

Terry himself dressed in a doctor's lab coat and pretended to stab a woman in a gray wig.

"There's no way to pay for this thing without killing granny," Terry explained.
There's really nothing I can add to that.
[via]
Add a Comment
Please
log in
to post a comment