How to Buy a Politician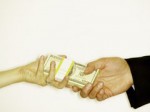 This is cool – shows you political contributions that occur near votes favorable (and  unfavorable) to a piece of legislation.  Here's frequent Douchebag of the Day Chuck Grassley.  Here's everyone's favorite hooker fucker David Vitter.  And, for shits and giggles, here's my senator: The Schume* – it appears no one gives him money.
Yet another reason Al Gore invented the internets.
*to Schume means to take credit for something you had absolutely nothing to do with.
Add a Comment
Please
log in
to post a comment