I Only Have Thighs For You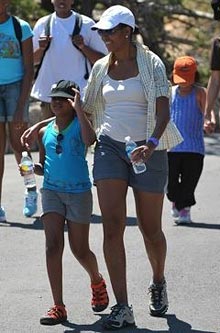 Looking for something — anything — to distract us, we stumbled across what looked like a fun controversy: criticism of Michelle Obama's vacationwear.
The headlines were all over Google News: Michelle Obama Shorts spark debate! Michelle Obama's shorts causing a stir! Michelle Obama's Shorts: too short? Even the Today show did a segment on the First Gams:
During a recent family vacation to the Grand Canyon, Michelle Obama stepped off Air Force One in a pair of "short shorts" that some are calling inappropriate.
Great, we thought. Let's find some stupid people saying stupid things.
Only there weren't any. Just stupid people talking about other stupid people saying stupid things, without bothering to say what exactly the other stupid people said, or where the other stupid people said them. Nobody actually took Michelle Obama to task for wearing sensible shorts in hot weather. The "controversy" didn't exist. It was a hole in a doughnut.
So, scratch that idea. Maybe we should have looked into Levi Johnston's $25,000 porn offer instead.
Add a Comment
Please
log in
to post a comment