Douchebag of the Day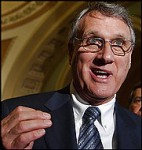 One of yesterday's contenders goes home with the roses:
Senate Minority Whip Jon Kyl (R-Ariz.) on Tuesday defended critics of Democratic health care reform plans who claim the proposals would provide subsidized health care to illegal immigrants. Kyl said Democrats have long sought to block curbs on public services for people illegally in the country.

…

"In the last couple of bills … there were efforts to ensure that only eligible people would get the benefits … those efforts were defeated by Democrats," Kyl argued, pointing out that hospitals currently are required to provide illegal aliens — as well as anyone else — with health care if they are in need.
Except, well, that's a lie:
Over the past two weeks, questions have become common about whether illegal workers would get subsidized insurance or benefits under health care reform. In Iowa, Sen. Chuck Grassley (R) faced immigration questions at all four of his town-hall events.

None of those events saw heated exchanges over the issue — and Grassley said there are no bills being considered that would extend benefits to illegal immigrants.
How bad have things become when we have to rely on Chuck Grassley telling the truth?
Add a Comment
Please
log in
to post a comment