Douchebag of the Day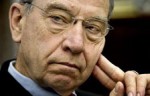 What is this, the third time in two weeks?
Grassley on public option: "The government is a predator, not a competitor."
Our politicians are paid by health insurers to lie to us. And more people will die in the future if  there is no public option.
Add a Comment
Please
log in
to post a comment