Of All The Death Panels in All The Town Halls in All The World, We Walk Into The Boring One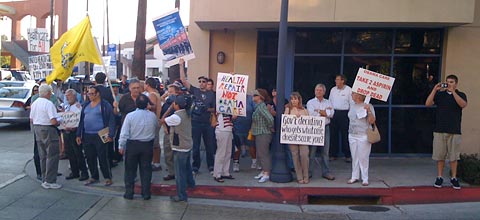 Traveling wingnut buskers provide welcome entertainment for the true-blue crowd.
Despite Duke Cunningham, and the Minutemen, and Mission Accomplished celebrated in the waters off our shore, Sandy Eggo is no Orange County. Our local Congresscritter is a Demrat, and when we heard she was holding a health-care Town Hall Tuesday night, we feared the worst.
Which is to say, we feared nothing would happen.
And we were right.
An informal sidewalk poll revealed that everybody watches Keith Olbermann.
At least that's our impression after standing in line for an hour, and then having the doors shut on us when we were four from the front — the room had reached its 320-body capacity, leaving another 250-ish outside. And this not being south Florida, we didn't start pounding on the windows. Probably because there weren't any.
Whatever happened inside, those stranded outside made the best of it, trading well-behaved chants and heckles with the dozen or two protesters who huddled together for protection in the pinkest part of our blue district — for the event was held in the heart of the city's sodomite neighborhood. We've endured far scarier scenes at college basketball games.
Actually, we've caused far scarier scenes at college basketball games. But the statute of limitations expired on our hoop hooliganism long ago.
Healthcare Reform Bill Aired At Hillcrest Townhall Meeting [10news San Diego]
Add a Comment
Please
log in
to post a comment